More than 60 years ago, the Canadian Medical Association realized that Canadian physicians needed an effective and affordable way to save for retirement. That realization gave birth to the registered retirement savings plans that all Canadians enjoy today—and, in 1969, to MD Financial Management.
Fifty years later, we're holding true to our original mandate: to help Canadian physicians and their families achieve their financial goals at every stage of their career. We've been successful through the decades by being open-minded to change and always looking for new ways to help you achieve your long-term goals.
Together, MD and Scotiabank® now provide you and your family with new ways to take advantage of more financial solutions. With Scotiabank behind us, we can benefit from their tools, technologies and strategic partnerships to provide a better client experience and make it easier for you to do business with us.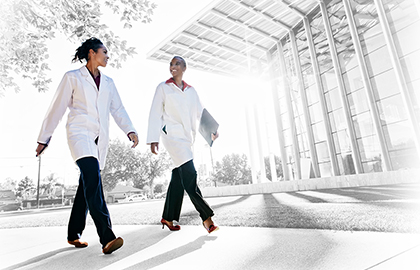 Invested in physicians and the communities they serve
Learn more about how MD, Scotiabank and the Canadian Medical Association are committed to supporting the medical profession and advancing health in Canada.
We support the entire physician community
Our partnerships with leading Canadian medical associations enable us to share our expertise, resources and insights with the greater medical community.
We also sponsor a number of events, awards and programs throughout the year, including: